Shop By Nursery/Bedroom Theme
About Rookie Humans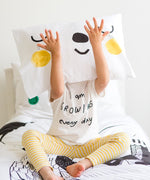 It is a special privilege to become a part of a child's story. That's why we search high and low to find incredibly talented artists who bring their unique interpretation of dreamland to each of their designs. Every sheet is a backdrop to a delightful story, and every baby is the protagonist.
Commitment to Quality
Our sheets are made with soft, 100% cotton sateen, 230 thread count. We lab test for fabric performance and CPSC compliance. Our vibrant prints are made to last wash after wash.
What Customers are Saying
"These are the most beautiful and quality bed sheets ever made!!! I love them for my daughter and I love gifting them to other moms! They're truly fun and interactive!!"
Liya
"These are so cute! I also loved that my 6 month old loved looking at the pictures, they keep his attention after naps. They have a nice tight fit too."
Charlene
"These sheets are everything I expected ! So cute , fun and puts the entire room together. They are absolutely perfect and will buy another pair and a pair for upcoming baby showers as gifts!"
Nicole
The only sheets we use! Every morning my daughter points to each of the illustrations and we talk about what they are.
Stacey
What Everyone's Saying
Their crib sheets are nothing short of spectacular. Truly, they are what you might imagine children's dreams are made of. 
We're in love with these Rookie Humans crib sheets for amazing naptime instagrams without all the effort.
These sheets will allow you to create photos of your baby napping that are a work of art.
Designed to function as sheets and imaginative backdrops for in-crib photos, these dreamy styles are the best thing to happen to your Instagram feed all year.
More Press Coverage
The Original Photo Op Crib Sheet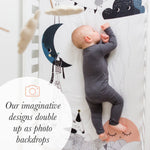 The crib sheet reimagined
Inspired by the magical moments that happen inside the crib, we reimagined the crib sheet as a backdrop that brings whimsical stories to life around the baby.
Our modern and fun crib sheet designs create the perfect backdrop for all the milestone pictures you will be capturing the first years of life.