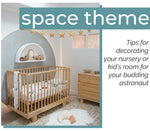 Designing a nursery or kids room is an exciting and challenging experience for parents. Creating a space that is both functional and visually appealing can be a daunting task, but choosing a theme can help make the process easier.
Space themed rooms are some of our favorites for a number of reasons.  Being a gender-neutral theme means it can be easily shared by siblings, and it is also a theme that little ones won't outgrow quickly (space themes can go from nursery to teen rooms with little tweaks along the way).  Because it is a popular theme, parents will have no trouble finding lots of accents that will help transform their bedrooms into magical places. From stars and planets to astronauts and spaceships, you can bring the excitement of the galaxy into your home.
Incorporating a space theme into your nursery or kids room is easy with Rookie Humans' collection of space-themed bedding and accessories. This collection has a wide range of products that are perfect for creating a fun and imaginative space. Here are some of our favorite products to get you started:

Space Themed Bedding: Themed bedding set is a great way to weave in a theme and make a statement in your child's room. We have space themed bedding options in Crib, Twin, and Full/Queen for little ones of all ages. Our space bedding features colorful planets, stars, galaxies, and rocket ships making it the perfect centerpiece for your space-themed room. You can see our full collection of Space Themed bedding in all sizes here.

Wall Decals: Decals are an easy way to build on your theme.  These days most decals are removable and repositionable, making it easy to swap out overtime when you are looking to refresh your theme.

Themed Rugs: Rugs are such a great way to add personality to a room, and themed rugs are great especially during the early years when children spend so much time playing on the floor. Depending on your style, you can go with something whimsical and delicate like a cloud-shaped rug, or something more bold and playful like a planet rug.
Throw Pillows: Throw pillows are a great way to add color and comfort to the room. We have a variety of space-themed throw pillows that are perfect for adding a fun and cozy touch to your child's room.
Small Accents: Whether it's adding a nightlight, bunting, or mobile - small accents can add a lot of whimsy and charm. 


With these products, you can turn your child's room into a magical and imaginative space that they will love. Whether you are creating a nursery or a kids room, the space theme is a great choice for creating a fun and imaginative environment. So, why wait? Start exploring the galaxy today!