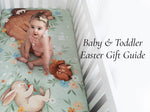 The Easter Bunny is coming! We adore all things fluffy, and a baby in bunny ears is absolutely irresistible.
We've put together this fun Easter Shopping Guide for the littlest ones, including two of our adorable bunny-themed crib sheets.
The perfect backdrop for your Easter pictures
If you are looking for an Easter photo backdrop, we have two adorable options for your little one!  Enchanted Meadow and Goodnight Wonderland both feature beautiful whimsical scenes with little watercolor bunnies.
Both crib sheets are available in standard size and mini crib size, and we are including free gift wrapping during the month of April.
Shop Enchanted Meadow crib sheet in Standard size and Mini crib size.
Shop Goodnight Wonderland crib sheet in Standard size and Mini crib size.
The sweetest Easter stuffies and loveys   
We have stuffed animals from Bunnies on The Bay at home, and along with Jellycat, they are some of our favorites.  There is a sweetness to their designs that makes them extra special.
These sweet little bunnies can be found here and here, but they also have a large variety of Easter gifts which can be found here. 
This bunny from Maileg's Best Friends collection is so sweet, and perfect for little ones of all ages. Toddlers can enjoy playing dress up as Maileg offers toy clothes to go along with it. Link here.
How handsome is Benedict The Bunny? This handcrafted toy is not only beautiful, but also supports a great mission (every doll = 10 meals). You can find Mr. Benedict on Cuddle and Kind's website here.
This adorable security blanket from Gund is colorful and makes crinkle sounds to keep baby interested. Link can be found here.
Sleepy bunny rattle. Link here.
Bunny Headwear 
Oeuf has some of the most adorable bunny apparel for babies and toddlers, in fact, they have a whole section of their site dedicated to bunnies! Link here.
The prettiest bunny ears I could find, and you can get them at Anthropologie. Link here.
My heart melts for pretty much everything on Hello Little Page, it's such a darling shop. This lovely bonnet is just an example, but they have a lot of sweet bunny-inspired apparel for the littles. Link here.
For tiny feet
For the littlest ones, size 0-6 months, these Meri Meri bunny booties are so cute! Link here. 
These darling socks come in sizes from 0 to 24 months. Link here.
These little bunny and carrot socks are too cute, sized 6 months to 3T. Link here.
Bunny Apparel
Little Sleepies pajamas released two adorable bunny prints, available in knotted gowns, onesies and pajama sets here. 
Knit bunny romper in sizes 0 to 3T. Link here.
And of course, no gift guide for kids is complete without some fun toys! Here are some great options for toddlers.
*Swoon*, this wooden ride-on toy is recommended for toddler 3T+. Link here.  
Bunny speed racer. Link here.
Janod magnetic carrot rocket ship with bunny astronaut inside. Link here.
Little ones can play dress up with this bunny family. Link here.
Fair warning: Hatchimals are chatty toys. They play music and make noises all day long while they are being played with, but both of my boys have one and they absolutely love them. The hatching experience is also quite fun! Link here.
Why not celebrate the Easter Bunny's arrival with a pinata? Link here.
Wishing you and your families a safe and happy Easter season!
XO,
Gaby a.k.a. Mama Rookie