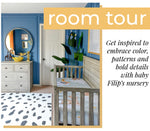 When we got tagged in Filip's nursery, we immediately fell in love with the colorful and fun vibe of the room.  During a time when the trends are going minimalistic and beige, we celebrate anyone daring enough to play with bright colors!  We hope his Mom, Jovana's fun nursery will inspire you to embrace color, patterns and bold details.
Jovana, tell us a little bit about yourself and your family:
My husband Trent and I live in Minneapolis, and we have 3 boys together: Stefan (5), Nikola (3) and Filip (10months). I also have a 15 year old stepdaughter, Hannah. I grew up in Serbia, and Trent is born Minnesotan - our kids are growing up in a dual culture home, its very fun! We live a very active lifestyle, and when we are not working our day jobs, we are focusing on creating a home haven that is both functional and stylish :)


Filip is a very lucky little guy, I love his nursery so much, it is so bold, colorful and fun. The color palette in particular is very unusual. Can you tell us more about what inspired you to go in this direction?
Thank you! When I found out I was pregnant with my third boy (and my last child!) and needed to start planning for his nursery, I felt very stuck creatively. l knew right away his nursery needed to be different, unconventional, bold, but also blue, modern, fun and boy-ish at the same time and something he can grow into. I also embraced this opportunity to stretch myself creatively. I have been so inspired by mustard yellow velvets, bold moody walls I've been seeing lately, as well as French wall moulding and those became my foundation. I love animal prints and wanted to infuse it in a way that felt perfectly intentional for a little baby: Dalmatian print rug, lion wall images, tiger print pillow and animal kingdom bedding fit perfectly together. I also brought in a fun, brass chandelier that reminded me of Sun. Not all the details need have to be intended for a nursery - you can hide diaper creams and nail clippers in a fun ceramic bowl for sure! :)
 


I know people are going to ask because it's such a beautiful color - do you have the name of the paint color you used on the walls?
This is "Inky Blue" by Sherwin Williams. Fun fact: I sampled 12 blue colors on the walls of his nursery which is facing east and gets lots of light in the morning. Always sample paint, swatches at the stores are very deceiving!


Being baby number 3, I can imagine Filip is getting a lot of hand-me-downs from his older brothers, but you managed to create a space that looks sparkling new. Do you have any advice for parents that are welcoming their second, third or fourth baby and already have a lot of the furniture and gear that they need? What are some details that can help bring new life and freshness to a semi-recycled baby room?
You are right - buying new furniture was not an option for us. Every piece in Filip's room is recycled. I had to work with what I had, I even brought in an old mirror that's been sitting in my storage room. Never underestimate the power of fresh paint and new accessories such as a statement lighting fixture, new rug, bold bedding, a fun pillow, art on walls: those details can elevate the space, make it feel fresh and make that older furniture come back to life in an instant! My secret weapon has been creating mood boards: play around with images of existing furniture + anything new, it will for sure help visualize the space before committing.
I will also say that you do not need to compromise style in a nursery for function: you can definitely have both! Start with a vision, and what you want the room to feel like, even "pin" rooms that are not nurseries.
Well, we think baby Filip is very lucky! If you want to see more from this stylish mama, you can follow her on Instagram on @heyitsjovana.
Want to borrow some of Jovana's style? Here are a few of the products featured: Filip's name sign is from Etched On Wood, tiger pillow from Land of Pillows, giraffe and lion prints from Poster Store, message poster from Samantha James, Print Shop, custom mobile from Redhead & Blue, rug from Boutique Rugs, crib sheet from Rookie Humans.