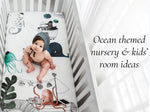 There are so many reasons to love the under-the-sea theme! This versatile, gender-neutral decor theme has a calming color palette and infinite possibilities for bringing fun elements into your baby or kid's room.  
With our bedding we always seek to inspire children's imagination, and this theme lends itself to so many possibilities for making up stories, games or to simply dream about exploring the magical underwater world.
Whether you are going with a nautical, beach, ocean or surfing theme, we have compiled some of our favorite items to give you a head start.
1- Rookie Humans Underwater Love Crib Sheet, 2- Rookie Humans Jellyfish Toddler Comforter, 3- Rookie Humans Underwater Love Twin/Full Bedding, 4- Paper boat wallpaper, 5- Whale wallpaper, 6- Ocean waves wallpaper, 7- Clouds wallpaper, 8- Shark wallpaper, 9- Whale mobile, 10- Toy boats, 11- Whale bean bag chair, 12- Nautical mirror, 13- Walrus art, 14- Wooden oars.